Back to the list
EXPO XXI Catering Mazurkas - Catering Show 2011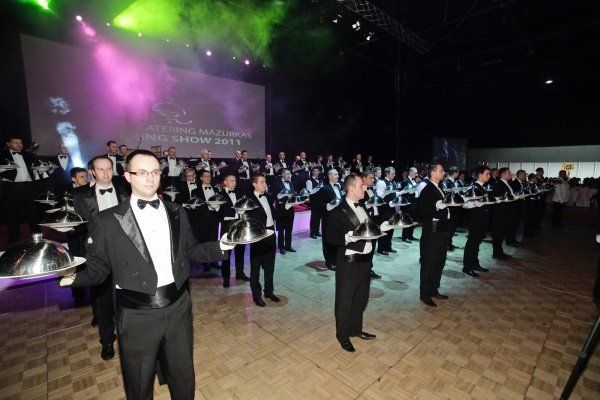 The Catering Show 2011 we organised with the EXPO XXI Centre took place on 11 March at the biggest Expo XXI hall in Warsaw. Over 700 guest from the whole of Poland and nearly from all industries were given an opportunity to try some excellent food and service provided by a whole army of professional waiting staff.
Waiting staff, bartenders and cooks from Catering Mazurkas graced the huge banquet with their art, greeted the guests at the start from a vintage limo and from a real sedan chair. The whole show was created taking into account the fact that even the best organisation needs to be supported by appropriate culinary experience.
Mazurkas proved that catering is not only about providing the food, but also about staging a show combining serving methods and flavour compositions. The menu, composed of dishes from all corners of the world, was enriched by 170 hot dishes, appetizers, snacks and desserts. An exotic bar offered alcoholic beverages from all over the world, while thematic food stations prepared and served delicacies from various cuisines live. A special Fish Market was also set up, allowing the guests to please their palates with seafood straight from Europe's biggest fish market in Frankfurt. The food ceremony conducted by Mazurkas Catering's chefs featured a truly original choreography and provided an excellent opportunity to discover various catering solutions as well as new trends in the Event Marketing industry.
The gala evening was hosted by Bożydar Iwanow, accompanied by Iwona Kątny from Mazurkas. The guests, including Karol Strasburger with his wife, Zofia Czernicka and Jerzy Gruza, danced to music played by Bala Band and listened to world-famous tenor Iwo Orłowski. A tombola was organised during the party, and a charitable auction was also held by the K40 Association to raise money for activities intended for people with mental and physical disabilities.
Back to the list